The Farncombe Day Centre offers a welcoming and friendly place for people in the community to meet and socialise.  While the focus of the Centre is on those aged over 50, people  of all ages are welcome to come in for coffee/tea and cakes, lunches or to use our services.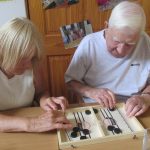 The Centre also offers a wide range of activities, including:
Bingo on Mondays from 2:00 to 3.00pm, Knit & Natter every Thursday  1.30pm open to all.
Afternoon entertainment such as music, quizzes, gentle exercises and craft activities.
Outings by minibus to local places of interest such as,garden centres,  to the pub and shopping trips to supermarkets.
Occasional coach
trips to places further afield such as fish and chips at the seaside.
We have Ipads for use to access the internet or play games.
Walled garden for enjoying a nice day.
The Centre premises are available for hire in the evenings or at weekend on an occasional basis, Art of Curry are regular hirers of the centre if you are interested in joining these or hiring the premises  Please contact the Centre Manager for more information.