There are many ways you can help us :
As a volunteer: Volunteers are very important to us  and help us to ensure the smooth  running of the Centre as helpers on the servery, Lunch Tickets  or with washing up and  as escorts on the minibus.
As a fundraiser: The Centre has a programme of fundraising events, run by an enthusiastic group of staff and volunteers. Events are held throughout the year and raise money for "essential extras" such as outings and entertainment. We hold our Summer Fete every year at the day centre which is a great fundraiser.  Please contact the Centre if you would like to join our fundraising team.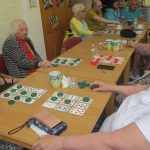 When shopping on line: There is also a chance to raise money for the Centre when you (or your friends or family members) are doing your own shopping on-line. Just go to www.easyfundraising.org.uk and click on the retailer's weblink to make your purchase. Most big retailers like Amazon, Argos, M&S, Tesco, Sainsbury's, John Lewis and B&Q are registered and the price you pay when going through www.easyfundraising.org.uk is just the same as going directly to the store's website. The only difference is that the retailer will make a donation to the Centre to thank you for shopping through easyfundraising.